Installing and Setting the PBX in Odesa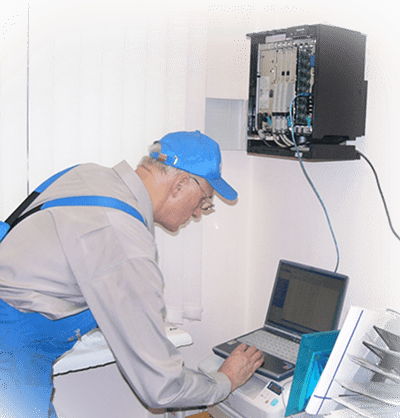 For those company managers or business owners who are considering installing their own modern IT telephony, it is crucial to find a reliable partner – a company specializing in this field, which will perform the entire range of required works promptly, efficiently, and reliably. Today, IPtel is a well-known company in Odesa and Ukraine able to address any issues related to the administration, programming, set up, installation and repairs of office PBX. The setup of office PBX is the most popular service among our customers. Its scope depends on customer preferences and the required functionality of office telephony.
Installing office PBX in Odesa
IPtel offers a range of options for the owners of small, medium and large businesses, as well as for individuals who want to install a quality VoIP in their office/home. Our specialists install and configure the PBX under a tight schedule to promptly provide our customers with modern phone communication. Based on the terms of reference (drafted according to the customer's needs and the required scope of works for a given business), our specialists program and install a mini-PBX that helps address a wide range of issues:
Efficient distribution and handling of phone calls from customers between employees, company departments.
Considerably reduced costs of calls within the country and abroad with a minimum rate for outgoing calls.
Minimized personal calls by employees due to the ban on such calls.
Prompt internal communication between employees, which does not affect the quality of outgoing calls.
Business owners or company managers can now analyze the performance of managers, departments thanks to existing analytics.
All the information on calls with every customer is securely stored in the database, you can now create a history of communication with every customer.
Sending outgoing messages to customers with one click on the phone number.
Reduced time losses and cost of communication, which leads to increased sales and profitability of the company.
Installing office PBX allows for a quality and durable resolution of any existing issues with your office phone communication.
IPtel – your reliable assistant in the VoIP world
Fixing the issue with the high cost of office phone communication, analyzing sales managers' performance and boosting sales have never been so easy. Just call IPtel at (048)700-20-46 and get a free consultation, personalized offer for your business, as well as a prompt execution of all required works.
IPtel – your reliable assistant in the modern VoIP world!
Category:Non-categorized