Saving on International Calls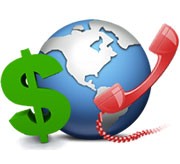 The costs of international calls in modern companies account for a significant share of monthly bills. Many companies have customers, contractors and partners located in countries across the globe. Many companies have territorial divisions: branches in the regions, remote offices, warehouses, many staff members work remotely, and so on.
With Asterisk, you can make use of all VoIP benefits, which is also way cheaper than conventional telephony. So how can you save on international communication? How can you save on international calls? If there is only one carrier available in your business center, then it will use its monopolistic position by setting rates for communication services that are much higher than market prices. In this situation, the customer will have to pay the price that the local monopolistic carrier wants to get as most often, there are no alternatives for selecting other carriers on the market of wired communications.
The following table illustrates the rates of some popular SIP carriers offering telecommunication services in Ukraine. The last lines of the table show the rates of some SIP carriers – Zadarma (learn more at http://zadarma.com) and SIPNET (learn more at http://www.sipnet.net)
| | | | | | |
| --- | --- | --- | --- | --- | --- |
| | CIS | USA | Europe | China | Russia |
| Ukrtelecom | 3 UAH | 2.9 UAH | 4.8 UAH | 4.8 UAH | 1-2 UAH |
| Farlep | 2 UAH | 2,5 UAH | 2,5 UAH | 3,5 UAH | 0,9 UAH |
| Intertelecom | 2 UAH | 1 UAH | 2 UAH | 1 UAH | 0.75 UAH |
| Zadarma | 0* | 0* | 0* | 0* | 0* |
In addition, you can connect multiple providers (carriers) offering the best rates to regions that are relevant specifically for your company.
When configuring Asterisk IP PBX, we will help select the best VoIP provider (carrier). Besides, we can set call routing based on your preferred regions, which will result in considerable savings on international connections.
In addition, with the DISA feature, you can call from anywhere in your city or country to a mobile or landline IP PBX number absolutely for free, while also considerably saving on calls to international numbers by using cheap (or free) international communication.
How to save on international calls when on a business trip or outside your office? Most modern mobile phones can access VoIP servers from anywhere in the world where there is a high-speed Internet connection. This means that being in the hotel, restaurant or airport and after connecting to a local Wi-Fi access point, you can make calls from your phone as if you were in your office. This will help you considerably save on international negotiations.
Modern business erases borders between countries. This is especially noticeable in the seaside city Odesa. Quite often, branches or company partners are located across the continent or even the globe. Modern Asterisk IP PBX will let you connect your offices, branches and even connect to your partners' telephone network. When combined, all of this can ensure enormous savings on international calls abroad and between branches within the country.
Category:BenefitsNon-categorized