Outgoing Calls with the Reservation of Call Center Operator
Outgoing calls with reservation
The title makes it clear that in this dialing mode, the operator is assigned by the system before the connection with the dialed recipient is established. In other words, a call center employee waits to be connected to the dialed recipient. This mode is made possible in two ways:
with a preview of information on the dialed lead;
without preview.
Outgoing calling with customer's card preview
In this mode, the operator has the opportunity to study the card of the dialed recipient.
This mode is often used to teach new employees and gives the operator time to study the conversion script, additional information on the lead. Once ready, the operator presses the button and the system dials the number.
Dialing process in this mode:
1) The supervisor uploads a list with numbers to be dialed
2) In the campaign settings, the supervisor specifies the dialing mode "Manual dialing" + the required settings



3) On the operator's screen, the system automatically displays information on the dialed customer in the specified timeframe
4) The call center employee assesses it and presses the button if the decision to make a call is made
5) When the operator hears the customer's answer, he or she starts a conversation using a call script or an unplanned dialog
6) Having completed the call, the operator records the result selecting the corresponding status from the list of possible statuses (no conversation, number busy, customer asked to call back…)
Outgoing calls without information preview
with subsequent number redialing
In this mode, the system sequentially sorts through the numbers from the dialing lists until the recipient answers.
And only then it connects the operator, who was reserved by the system in advance.
In this mode, in contrast to the previous one, the system automatically records failed dialing attempts and assigns them a status (e.g., NA – No Answer, B – Busy…)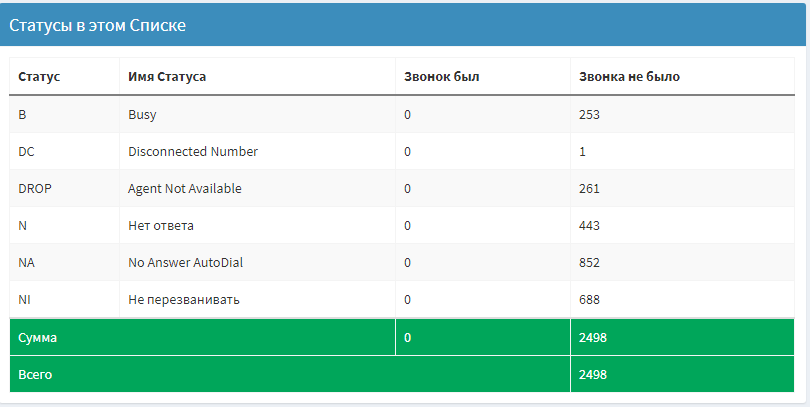 This regime is best for you if you want to call your database while having a small number of operators (up to 10). This is possible with our product – a system of bulk automatic outgoing calling based on the Asterisk phone platform.
This mode's benefits include the ability to make a multitude of outgoing calls and minimize the quantity of dropped calls. Dropped calls are the ones where the recipient answered but no employee was available at the moment. If the ratio is set to 1.0, you can prevent such calls altogether. The drawback of this mode includes operator reservation, which leads to significant unproductive time losses.
Various modes of outgoing calling
Category:Outgoing callingNon-categorized