Online Monitoring Panel
Real-time call panel
The call panel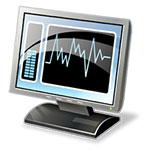 will help see calls in real time. This includes such data, as who is calling to whom at the moment, answered and pending calls, which all help assess the call center's workload.
Who can benefit from it:
Secretaries:
Now all operations are accessible with just one click!
View available staff members
Forward calls to extension numbers, voice mail or outside numbers
Park calls
Manage and view parked calls
Search and filter numbers in real-time (perfect for major companies)
Call center managers:
You can both see the operator's status and quickly assess the situation with a queue
View registered agents in the queue
View agent status (paused, logged off, invalid)
Manage agents: add, delete or pause queue members
Listen in or prompt agents
Use one of three modes: listening, conference call or employee training. This is a very convenient tool for training new staff members.
End users:
You can make the most out of all FOP2 panel features, while not being a call center member
Call notification (caller's name and number, call in the queue)
Call management: call forwarding, hanging up, parking, etc.
Conference management: blocking, exit, muting, other.
Viewing current call status
IM Chat: Instant Messaging. Exchanging instant messages
Using the browser to listen to voice mail
Category:BenefitsNon-categorized