Conference and Video Calls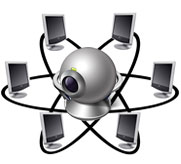 Conference calls
The success of any company depends on the performance of all project participants. Getting information on time and using it in the right sphere always contributes to the development of a successful business. It is no secret that most companies hold meetings to discuss business matters and sometimes appoint a speaker. All other employees usually follow the course of the meeting and only take part in the discussion of some issue. Company meetings usually take place at various intervals and not all matters may be considered on time. However, all difficulties that may arise in the course of work are because company branches are located in different cities and corporate meetings become impossible. These are the cases when conference calls come into play.
A conference call is a conversation between three or more people.
Powered by the Asterisk platform, conference calling is a convenient and mobile way to communicate important information to conference participants.
A system of conference calls is required to fix pressing issues for people who are located far from each other but can make a decision by telephone. This system is indispensable for small and medium businesses, as well as geographically dispersed companies where the pressing need to make an urgent decision may appear at any time, but an urgent meeting to find a way out of the situation cannot be arranged.
On top of that, conference calls ensure:
high-quality communication, as if all conference participants were present and talking in one room;
the connection of an unlimited number of participants, including geographically dispersed ones, to hold negotiations and discuss some issues via existing communication channels;
complete elimination of ambient sounds and interferences with the system of echo cancellation and noise suppressing;
unimpeded communication between conversation participants;
the system of conversation recording for subsequent analysis and negotiations transcribing to generate documents (agreements, transcripts, etc.,) based on them, and so on.
Video calls
IP video phones are now used increasingly more often for the most convenient distance communication, as they allow seeing and hearing the person on the other end. Innovative technologies deliver superior audio and video transmission. This type of communication is becoming the best alternative to face-to-face contacts replacing and sometimes even improving distant communication. Using video calls, you and your interlocutor can see each other on the specialized screen with a minimum delay in signal transmission. This Asterisk VoIP feature can provide the highest quality of visual contact, while you can observe your interlocutor's emotional response which will be certainly reflected in their facial expression. Video calls using Asterisk IP PBX will be particularly relevant for those who often need to communicate with colleagues and friends over a long distance. Moreover, this type of phone communication is becoming increasingly more and more popular during important business negotiations, hence this is a must for companies willing to improve their performance indicators.
Category:BenefitsNon-categorized